Invest Jamaica 2022
Don't miss it! ¡¡No te lo pierdas!!.
Invest Jamaica 2022
Please see save the date below for our upcoming Invest Jamaica 2022 conference. The event, which is being held in partnership with the Inter-American Development Bank (IDB), will take place at the Montego Bay Convention Centre on November 29-30.
The conference will highlight Jamaica's key sectors of focus, which include; Tourism, Logistics, Special Economic Zones, Outsourcing/Global Digital Services, Manufacturing, and Agriculture.
————————————-
Por favor, vea la fecha de nuestra próxima conferencia Invest Jamaica 2022. El evento, que se celebra en colaboración con el Banco Interamericano de Desarrollo (BID), tendrá lugar en el Centro de Convenciones de Montego Bay los días 29 y 30 de noviembre.
La conferencia destacará los sectores clave de Jamaica, que incluyen: turismo, logística, zonas económicas especiales, subcontratación/servicios digitales globales, manufactura y agricultura.
---
GLOBAL TOURISM RESILIENCE & CRISIS MANAGEMENT CENTRE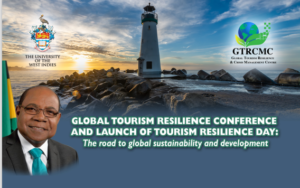 ———————————————————————————————————–
---
Business News from Jamaica
Big boost from bamboo
Company projects 5,500 jobs, US$1.5 billion in earnings over the next 10 years
Jamaica is well on its way to operating the first and only dedicated bamboo market pulp mill in the Western Hemisphere.
Bamboo Bioproducts Ltd (BBP) is advancing its investment in local bamboo with plans to build on lands in Frome, Westmoreland, and will focus on pulp for paper production.
The company projects to spend approximately US$300 million to establish the project with a an estimated return on investment of 22 per cent with conservative projections of US$1.5 billion in revenue during the first 10 years.
In addition, BBP anticipates that 500 jobs will be created directly within the facility and up to 5,000 jobs indirectly.
Currently, Asian manufacturers are the primary producers in the US$24-billion global bamboo market which fuels a variety of industries including paper manufacturing, agriculture, health and wellness, construction, textiles, and furniture, among others.
Jamaica's proximity to western markets, as well as its deep history in sugar cane production (which has strong similarities to growing bamboo) means that BBP's Frome facility offers game-changing national economic development opportunities.
In emphasizing the importance of this project to Jamaica's economy, Prime Minister Andrew Holness said investments like these, anchored on a sustainable environmental and economic model could lead to a rethink of how we might achieve our development.
See full article: https://www.jamaicaobserver.com/news/big-boost-from-bamboo-company-projects-5-500-jobs-us-1-5-billion-in-earnings-over-the-next-10-years_216836?profile=1373
Fitch affirms Jamaica's rating at B+, outlook remains stable
Fitch Ratings affirmed Jamaica's long-term foreign currency issuer default rating at B+ with the outlook remaining stable, the Ministry of Finance revealed last evening.
The news came amidst a verbal joust between Finance Minister Dr Nigel Clarke and the Opposition over the latter's proposal for additional spending in the proposed 2021/22 budget.
Last week, Opposition spokesman on finance Julian Robinson had urged the Government to increase the budget by one per cent of the country's gross domestic product (GDP), or $21.5 billion, to stimulate quicker growth, given the blow to the economy delivered by COVID-19.
"The Jamaican economy will grow faster if there is greater spend," Robinson had insisted in his presentation to the budget debate last Thursday.
However, Clarke has since countered that argument, and last night, in reacting to the Fitch development, told the Jamaica Observer that: "Ignoring Jamaica's fiscal rules, going back to the bad old days of borrowing to pay interest, as suggested by the Opposition, would have led to a downgrade…which would have increased interest costs in a crisis and snuff out precious fiscal space. Jamaica cannot afford this."
See full article: https://www.jamaicaobserver.com/news/fitch-affirms-jamaica-s-rating-at-b-outlook-remains-stable-ignoring-fiscal-rules-would-have-led-to-a-downgrade-clarke-points-out_217440?profile=1606
Jamaica remains open for business thanks to PPPs
Don Gittens, manager of logistics, energy and infrastructure at government agency Doing Business Jamaica, talks to BNamericas about the state of various projects in the country. 
The Jamaica Promotions Corporation (JAMPRO) promotes public and private investment along with the Development Bank of Jamaica. 
With tourism down an estimated 67% in the Caribbean, according to UNWTO data, countries have turned to infrastructure projects to provide investment and jobs.
From a US$220mn investment at the Caymanas Special Economic Zone (CSEZ) to diversifying its energy portfolio, Jamaica is looking to bounce back in 2021 with ready-made projects for investors. 
BNamericas: JAMPRO is designed to ease business in Jamaica. How easy is it to do business there currently?
Gittens: Well, we do see some signs of recovery, some small signs. Construction dipped a bit but it didn't slow. We're still some ways off where we were before COVID because we were doing really well before COVID but a year has passed, we've weathered the storm somewhat…
Tourism has been hit probably the hardest. Because of the pandemic we've had to do some things a bit differently. So we had to put our focus on some things that we know will drive economic activity and infrastructure is one of those sectors that can drive economic activity. Lots of money, jobs etc. 
BNamericas: What do you think of the recent Jamaican budget?
Gittens: The fact that we're in a pandemic and there's no new taxes added, that shows we're trying to balance the budget properly and look and see where the revenue is coming from and they can redivert that revenue to make sure that you don't put any other burden on the citizens because the citizen is already burdened. So from that perspective the budget is one that we can all try and work with.
BNamericas: What are the opportunities for PPPs in Jamaica right now?
See full article: https://www.bnamericas.com/en/interviews/jamaica-remains-open-for-business-thanks-to-ppps
News:
A new BPO in Montego Bay — Segoso Caribbean
Sequium Asset Solutions LLC, a privately held firm based in Marietta, Georgia, recently launched Segoso Caribbean, a business process outsourcing (BPO) nearshore outsourcing firm in Montego Bay.
Segoso Caribbean operates in key contact centre verticals and channels (travel & leisure, utilities, telecoms, retail, financial services, inbound/outbound voice, chat, e-mail, care, sales, tech support), and maintains full site redundancy through its US offices.
Segoso Caribbean also houses Sequium's captive site in Jamaica, which manages first and third-party collection services for its US client base.
Segoso was established in October 2020 and led by Sebastian Tickle, the company's president & chief executive officer (CEO).
Tickle was a former group chief operating officer at itelbpo and is a 23-year veteran of the Jamaican and English-speaking Caribbean BPO industries. He was part of the original e-Services team, one of the pioneers of BPO in Jamaica and Saint Lucia.
Greg Schubert, Segoso Caribbean chairman, said: "We firmly believe that the mid-market is underserved by traditional large international BPO providers. Customers come to us because they need a team that is responsive, reliable, and who get the job done," Schubert stated.
See full article: https://www.jamaicaobserver.com/business-observer/a-new-bpo-in-montego-bay-segoso-caribbean_216616
---
Canadian company enters Jamaica's magic mushroom market
The vast economic potential of Jamaica's magic mushroom market has caught the eyes of foreigners who are now seeking to make use of that market. Already one Canadian company, Canbud Distribution Corporation, is currently investing millions of dollars in setting up operations in Jamaica, while another, Psyence Group Inc, has entered into a research collaboration agreement to study psilocybin-assisted therapeutic retreat experiences in Jamaica.
Canbud Distribution Corporation, which is a Canadian science and technology health and wellness company, is developing a magic mushroom cultivation and processing plant in Westmoreland. The company has announced that it will shortly be starting psychedelics-related activity in Jamaica.
See full article: https://www.jamaicaobserver.com/business-report/canadian-company-enters-jamaica-s-magic-mushroom-market-entity-said-to-be-investing-millions-into-psychedelic-plant-in-westmoreland_214648?profile=1442
——————————————————————————————————————–
Jamaicans In Diaspora Encouraged to Invest in Local Ventures
Jamaicans in the diaspora are being encouraged to invest in several potential areas of opportunity that have been identified locally by Jamaica Promotions Corporation (JAMPRO).
JAMPRO Vice President for Sales and Promotion, Norman Naar, says they include tourism, agriculture/agro-business, manufacturing, and mining, noting that these and others are key investment opportunities that position Jamaica as a "unique selling proposition".
He was speaking during a virtual Jamaican diaspora forum on the theme 'Investing in Jamaica", on Thursday (March 4).
The event was co-hosted by the Jamaica Stock Exchange (JSE) and the Jamaican Consul General in New York, Alsion Wilson.
In the area of tourism, Mr. Naar said there is "growing interest" for offerings incorporating retirement villages, wellness resorts, and boutique hotels.
"There is also the Mandeville Hotel for acquisition, with a purchase price of US$3.2 million," he informed.
Mr. Naar also pointed to "high demand" products in agriculture that offer significant opportunity.
These, he pointed out, include Scotch bonnet pepper, "where we see strong export opportunity", ginger, pimento, yam, coco, and Blue Mountain Coffee.
"Then there is much being said about the cannabis industry, and it remains an area of opportunity. So, we are looking for partners [interested in establishing] green houses, processing facilities, and indeed, dispensaries," the Vice President added.
See full article: https://jis.gov.jm/jamaicans-in-diaspora-encouraged-to-invest-in-local-ventures/
——————————————————————————————————
Red Stripe enters attractions business
Jamaica's household brewery Red Stripe is entering the attractions business with a multimillion-dollar joint venture arrangement with Negril's famous Rick's Café.
The joint venture between Red Stripe and Rick's Café will deliver an exclusive Red Stripe 'Experience Tour' on the property of Rick's Café, which is among the sought-after locations in Negril. Rick's Café is known for having an unrivalled view of the sunset in Jamaica.
The property, located in the West End area of the resort town, sits atop a 35-foot-high cliff and is also known for a heart-throbbing exhilarating cliff jumping.
Red Stripe's Finance Director Paul Schalekamp told The Caribbean Business Report ( CBR) that the total investment for the project is US$2 million ($289 million) with a 50-50 contribution from both partners.
The plan is to construct a tour facility of over 5,600 square feet with the aiming of having 60,000 visitors annually in smaller groups at the same time. According to Schalekamp, "the project seeks to attract more visitors to the property, which will in turn generate additional revenues and will be a great marketing tool both nationally and internationally."
CONSTRUCTION TO START NEXT MONTH
Work is far advanced on the project with actual construction slated to start next month. Already a contractor has been selected in GM and Associates. Ground preparations have already started.
See full article: https://www.jamaicaobserver.com/business-report/red-stripe-enters-attractions-business-joint_venture_with_Negril%26%238217;s_Rick%26%238217;s_Cafe_215196?profile=1442
---